On the Water
This unique part of the Mexican mainland boasts unmatched spectacular coastal topography, where the dramatic, colorful mountains of the lower Sonoran Desert plunge into the sparkling waters of the Sea of Cortez. This means that there are literally hundreds if not thousands of interesting features like bays, coves, estuaries, inlets, islets, islands, rock outcroppings, pinnacles above and below the surface, cliffs, caves, sand and pebble-covered beaches... the list goes on and on. Scuba diving, fishing, sailing, kayaking... if you enjoy the ocean, then San Carlos is for you!
*Scuba Diving & Snorkeling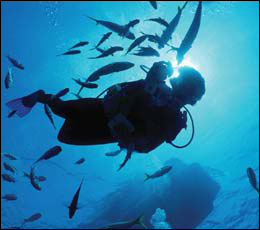 Scuba diving & snorkeling are by far the most popular water sports in the San Carlos area.
Protected from the larger Eastern Pacific Ocean currents by the arid Baja peninsula, the Sea of Cortez has long been known for the legendary quality of its diving waters. Clear, warm water and great visibility most of the year, plus abundant rock and coral shelves provide optimal diving conditions. Large tidal surges caused by the deep and narrow gulf ensure continual upwelling of nutrient-rich water from the deep, resulting in a variety of underwater life not found anywhere else in the world. Octopus, moray eels, spotted snake eels, puffer fish, groupers, schooling jacks, barracuda, and a wide range of ray species can be seen on most dives. Here's a link to one of many great web sites with detailed information on the local marine life: www.SeaCortez.com.
For those of you looking for the excitement of large animal encounters, a diving or snorkeling day-trip to San Pedro Island is the thing for you. The island is home to large numbers of playful and curious sea lions who commonly swim close to, if not through, groups of divers! In addition, the more experienced divers may encounter schools of scalloped hammerhead sharks at the south tip of the island; they are most commonly sighted in the late fall at depths over 100 feet. In addition, schools of dolphins are often seen playing in your boat's wake as you make the short crossing to Isla San Pedro.
Whether shore diving in or near town, taking a day trip on a boat either along the coast or out to Isla San Pedro, or spending several days on a live-aboard as you wander the gulf from San Carlos to Isla Tortuga, Isla Tiburon and back, you are sure to have a memorable time exploring the underwater world in this part of the Sea of Cortez.
San Carlos dive shops:
Ocean Sports
El Mar Diving Center
Gary's Dive Shop
Sonora Sports Center
Some Arizona dive shops with San Carlos trips:
Desert Divers (Tucson)
The Dive Shop (Tucson)
Aqua Blue (Phoenix)
El Mar Diving Center (Phoenix)
Oasis Divers (Phoenix)
Scuba Sciences (Phoenix)
Saguaro Sports (Phoenix)
*Fishing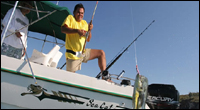 San Carlos is world-renowned for it's incredible sport fishing. If you're into bottom-fishing, trolling, entering a tournament or just spending the day on the water with family and friends, then you've come to the right place! Sport fishing in this part of the Sea of Cortez offers an unparalleled diversity of game. During the summer months you will find the exotic big game fish, including marlin, sailfish, dorado (mahi-mahi) and tuna. The cooler months from late fall into the spring offer up fantastic bottom-fishing, yielding tasty species like red snapper, sea trout, yellowtail and sea bass.
Follow the link if you are interested in learning more about the many fishing tournaments hosted here year-round.
San Carlos boasts two first-class marinas. Older, well-established, and outfitted with anything and everything a boater could want or need, Marina San Carlos is the focal point of the local marine community. Top-notch as well but with fewer services, and just 2 miles west, you'll find the quieter Marina Real.
Here's a partial list of fishing charters:

By Tag
Team Margarita Sportfishing
Catch-22 Sport Fishing
Sonoran Charters
Dakota Charters

*Kayaking, Sailing, Windsurfing & Nature Tours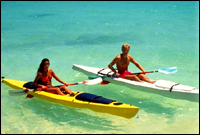 Sonora Sports Center offers a wide variety of water sport services, including kite boarding, windsurfing, sailing, kayaks, sunset cruises, whale watching & more.

San Carlos Aquatic Adventures offers kayak rentals and tours, Hobie Cat and Sunfish sailing, windsurfing, etc. They operate from the beach near the Delfin and Pilar condominiums and offer great access to the estuary for bird watching, or to the bay and local islands for dolphin watching.
And don't forget to check into the fabulous nature cruises offered by Gary's Dive Shop.
On Land
*Horseback Riding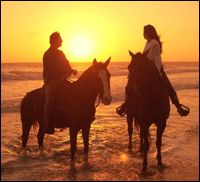 Astrid's Ranch offers guided trail, desert and beach horseback rides every day of the week, for all experience levels. They are located Inside Paradiso Resort Hotel at Los Algodones Beach. Stop by or call (622)227-0267.
*Hiking
For the hiking enthusiast, San Carlos offers many trails for all experience levels. Two of our favorites are the landmark Tetakawi Mountain, and Nacapule Canyon.
Tetakawi Mountain, ever-present on the San Carlos skyline, offers a demanding yet rewarding 1.5 hour, rather steep climb. However, the effort is more than compensated for by the extraordinary views of the Sea of Cortez stretching to the horizon from southeast to northwest. Distant volcanic peaks on the Baja Peninsula are usually visible to the west, over 80 miles away! The best time of the year to hike Tetakawi is October through April; late spring through summer is just too hot.
Nacapule Canyon is located only 6 km. north of San Carlos, accessible via a well-maintained dirt road. It is truly an oasis in the middle of the desert. Only 1.5 km. in length, but with dramatic, sheer walls that tower overhead to 80 meters, plus abundant flora - nacapule trees, palms trees, cactus and endemic plants... Nacapule Canyon never disappoints. For hiking information and tours, you can contact Todd's Quads at (622)226-2262.
*Tennis
With San Carlos' near-perfect weather, it is no surprise that we have plenty of tennis courts available. Some of the better ones that we have found are: San Carlos Plaza with 2 courts, Loma Bonita with 2 courts, San Carlos Golf Club with 13 courts and El Mirador RV Park with 2 courts. Tennis anyone?
*Golf
The San Carlos Golf Course, also known as San Carlos Country Club, is a charming 18-hole facility originally designed by Roy Dye, son of the legendary Pete Dye.
It is open 7 days a week; green fees with cart are $52.50 Tuesday-Saturday, with discounts on play after 2:30 pm and discounts on Sunday and Monday. Course amenities include: pro shop, driving range, chipping green, practice green, dining room, bar & lounge, tennis courts, swimming pool and spectacular ocean and mountain views. For tee times, reservations & membership information call (622)226-1020/1120 or fax (622)226-1102. Email: sancarlosgolf@prodigy.net.mx.

*Pearl Farm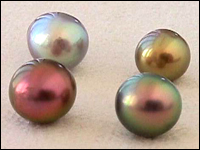 Visit the first commercial cultured saltwater Pearl Farm on the American continent. Take a guided tour of their facilities and browse through their unique onsite pearl jewelry shop. Located on Bahía de Bacochibampo, Guaymas, Sonora. For more information call (622)221-0136.

*Night Life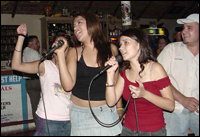 San Carlos Offers a wide variety of restaurants, bars and night clubs, most of them located along Blvd. Beltrones. Whether you are looking for a place to have a beer and watch a game, a place go out dancing and mingle with the locals, or somewhere quiet where you can have a good glass of wine and a tasty meal, San Carlos has it all.

Here are some of our favorite places:
La Playa
The Captain's Club
Froggy's
Bonifacio's
La Esquina
Blackie's
Picolo's
La Palapa Griega
Five Palms
Marina Cantina
Ruby Wine Bar
The Poolhouse
Banana's
The Soggy Peso

*Natural Attractions
Soldier's Estuary
The Soldier's Estuary, located right next to Condominios Pilar on San Francisco Beach, is a Natural Protected Area with a surface of 778 acres divided in swamp zones, water and land (comprised by sand dunes and bushes), and it is home to hundreds of different types of plants and animals, including a wide array of birds. Bird watching and kayaking tours of the estuary are available at several local water sports shops, and they are highly recommended.