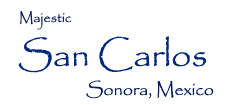 The community of San Carlos was founded on lands that previously integrated a large cattle ranch known as the Baviso de Navarro. In the mid 1950s, the first stages of a gradual and carefully planned tourist development began. In time San Carlos would become one of the first and most important tourist and recreational communities in Sonora.

San Carlos provides one of Mexico's few naturally protected marinas. Sports boats and yachts dock side by side in this easily accessible international harbor.

This area has also long been known for the quality of its diving waters... clear visibility and rock and coral shelves provide optimal diving conditions and an abundant variety of underwater sea life.

Fishing in the Sea of Cortez yields a diversity of species including dorado, grouper, bonita, and billfish. Yearly tournaments attract sports fishermen from all over Sonora and the Southwest.
Location: 15 km northwest of Guaymas, on the Gulf of California, also known as the Sea of Cortez.

Latitude/Longitude: 27° 56 'N 111° 03' W

Time Zone: GMT-7 (American/Chihuahua, same as Mountain Standard Time). Daylight Savings Time is not observed.

Population: Guaymas - 98,000 (apx), San Carlos - 4,500 (apx)

Airport: Guaymas International Airport, about 10 minutes away.